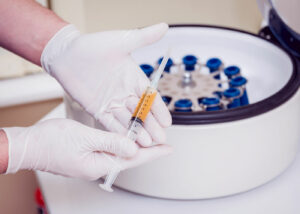 WHAT IS PRP?
Platelet Rich Plasma (or PRP) therapy is the process of spinning a small amount of a patient's own blood to separate the red & white blood cells from the platelets and the plasma.
The result is a more platelet-rich plasma that, when injected into the body, enhances the growth and regeneration of tissue for improved facial aesthetics.
When PRP is used for cosmetic procedures and injected into specific areas of the skin, it naturally smooths and tightens the skin, softening wrinkles and creating smoother skin texture and tone.
When PRP is used for sexual wellness procedures and injected into specific areas of the male and female sexual organs, it stimulates new tissue growth, activates bloodflow, and rejuvenates some of the reproductive processes that might not be functioning properly.
PRP For Aesthetics
As part of our PRP for aesthetics training classes, we cover three of the most popular types of PRP treatments:
The Vampire Facelift®
The Vampire Facelift combines injections of dermal fillers with the patient's PRP to create a facelift that is both youthful and natural. The process is quick, easy, and effective. Men and women with more minor or early-stage aging of the face can delay the need for plastic surgery by considering these less invasive ways of addressing fine lines, wrinkles, and folds on the face.
The Vampire Facial®
The Vampire Facial involves the use of a microneedling device on problem areas of the face, then the application of hyaluronic acid. Hyaluronic acid is a naturally-occurring element in the human body and can attract water and add volume where it is needed. By following up with targeted injections of PRP, patients can enjoy a smooth and ageless appearance without using laser therapy or fillers alone.
PRP Hair Regrowith
Another increasingly popular type of PRP therapy involves treatments for sexual wellness. These include:
PRP injections trigger natural hair growth and maintain it by increasing blood supply to the hair follicle and increasing the thickness of the hair shaft.
PRP For Sexual Wellness
The O-Shot®
The Orgasm Shot or O-Shot® is a procedure that uses targeted PRP injections in the vaginal area to rejuvenates vaginal and clitoral function, alleviate bladder leakage, improve sensitivity, and enhance sexual drive in women. This injection can be used on women of all ages who are interested in improving their sexual satisfaction with their partner!
The P-Shot®
The P-Shot, or Priapus Shot, is a procedure that involves targeted PRP injection into the penis to increase blood flow, improve sexual stamina, and enhance the quality and size of the male erection. Many men can restore their confidence in the bedroom and with their partner using the P-Shot as an alternative to prescription medications for erectile dysfunction.